About Support 21
In our day and age of globalization, quite a few foreigners and naturalized Japanese become members of our society. Some arrived first as refugees, some came to work and some are returnees.
Unfortunately, many of them often find it hard to adapt themselves to living in Japan for various reasons, such as language barriers, economic factors, illness or unexpected accidents. With very limited or in many cases no opportunities to get employment or schooling, they have been unable to make a decent living. We feel it our mission to support these people through providing advice and rendering material and psychological support when they encounter difficulties.
Support 21 was established in 1992 as a social welfare foundation for refugees, returnees from China and Nikkeis (Japanese descendants),etc. to settle down in Japan.
Our activities can be tracked back to the Association to Aid Indochinese Refugees (present Association for Aid and Relief, Japan) which started operations in 1979, when Yukika Sohma, the founder of AAR, took up action with the simple concept of extending a helping hand in times of need. The domestic programs compiled by AAR Japan were handed over to Support 21 in 1992.
Thanks to the efforts of volunteers and persons involved, many of these people have been able to become self-reliant and we see them with pleasure and pride. They are actively involved in our society, after surmounting many difficulties.
Every volunteer makes a difference, no matter where he or she lives or what his or her nationality might be.
We will greatly appreciate any kind of assistance you may wish to give us.
Access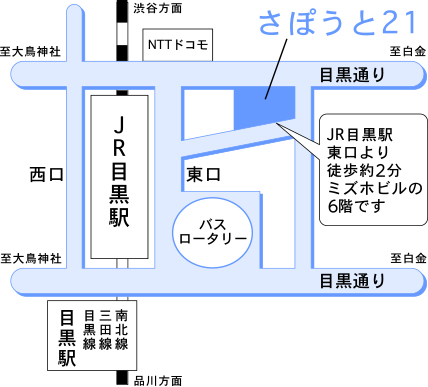 3-minute walk from JR Meguro Station East exit.
Address
6th Floor, Mizuho Bldg.,
2-12-2 Kamiosaki, Shinagawa-ku, Tokyo 141-0021
TEL:03-5449-1331 / FAX:03-5449-1332
Office Hours
Monday through Friday(except national holidays)10:00 a.m.‐6:00 p.m.